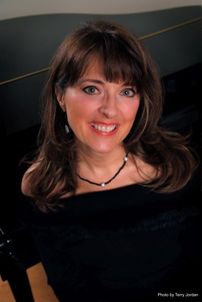 "'Soaring,' 'ethereal,' 'radiant,' 'lilting,' 'majestic'- just a few of the adjectives critics use to describe the voice of Debi Smith. Drawing upon her own life experiences, observations and emotions to create her pop/folk sound and heartfelt lyrics that range from the sad to the funny, introspective to up-tempo, Smith's performances at festivals and concert halls across North America uniformly garner plaudits from audiences and reviewers alike" --The Kennedy Center.  "As for Smith's genre of music…she is equally at home with country…pop…folk...opera…jazz or Irish music. She is a first-rate guitarist, accompanying a crystal-clear singing voice that has a range of at least three octaves. And she is a master of the bodhran (Irish hand drum)"--Chapel Hill News.  And, from folk music legend Tom Paxton, "Debi represents great songs sung with a God-given voice like few others. She is pure music." 
     Aside from her solo appearances, Debi also performs as a member of The Four Bitchin' Babes and as half of the sibling duo The Smith Sisters, as well as having had an early stint  as part of the all woman Irish group The Hags. She has recorded eight solo albums, seven albums with the Babes, five with The Smiths, and has also been included on numerous albums and compilations, including Christine Lavin's "One Meat Ball" and "Laugh Tracks." Her latest albums and accompanying touring theatrical shows with the Babes are called, "Hormonal Imbalance... a Mood Swinging Musical Revue," "Diva Nation," and  "Midlife Vices."
     Debi's early albums with her sister Megan, as The Smith Sisters, were produced by guitar legend Merle Watson and featured the playing of Doc Watson, Mark O'Connor, and Sam Bush.  "In My Dreams," Debi's first solo album, was co-produced with Grammy award-winners John Jennings and Al Petteway. Her second album, "More Than Once," marked her debut on the Shanachie label, and won the Wammie for "Best Contemporary Folk Album." Debi's third solo album, "Red Bird Red", was named one of the year's best by the Washington Post. "Cupid", Debi's fourth solo CD, was co-produced with instrumentalist/songwriter extraordinaire Billy Kemp, includes appearances by Kemp, Doc Watson, Mike Auldridge, Jon Carroll, and others. Debi's double-disc CD, "The Soprano" and "The Soprano Christmas," contain a collection of favorites and originals mainly featuring Debi's soprano voice. A first ballot Grammy and Wammie nominee, the album features talented performances by guitarist Al Petteway and multi-instrumentalist Marcy Marxer.  
Debi's release, "Hits and Holidays," is a collection of re-mixed, re-sung and/or re-mastered audience favorites in a variety of musical stylings, paired with holidays throughout the year. It features guest performers Doc Watson, Tom Paxton, Mike Auldridge, Al Petteway, Mark O'Connor, Marcy Marxer and The Smith Sisters.   Debi's, "If I Were an Angel," is a self-penned and traditional collection of Christmas holiday music with orchestra arrangments by James Kessler -- whose past arrangements include pieces for such events as The Kennedy Center Honors, A Capitol Fourth, performed by international orchestras from the London Symphony to the Boston Pops, and recording artists from Renee Fleming to B.B. King.   "Deep Tracks," released in 2018, is a collection of songs "from the vaults" that had never been recorded by Debi. Debi's upcoming (September 2021) CD "Then and Now," is a retrospective album of traditional songs that is a tribute to her inspirations in music.
     Smith has performed at venues such as The Kennedy Center, Minneapolis's Guthrie Theatre, and The Epcot Center; in Canada, Europe and Russia; and appeared on NPR's Prairie Home Companion, All Things Considered, Mountain Stage, and World Café. She has appeared on syndicated PBS music specials including "The Smith Sisters in Concert," as well as CMT's "New Country," CBS Sunday Morning, and Good Morning America.  Debi's bodhran playing with Al Petteway was featured on the title song of Ken Burns PBS special, "The National Parks."
     Debi's songs have garnered her numerous ASCAP popular music awards and a Grammy nomination, and have been recorded by a growing number of artists including Tom Paxton. Debi and her songs have been the recipients of a number of Wammie awards (Washington Area Music Awards), among them, Best Contemporary Vocalist and Album. Her song, "Virginia," was selected as a Virginia State Song Finalist.
     Debi's work has been published in a book called, Look Up at The Hawks, which she edited with her mother, Vivian Douglas Smith, based on Debi's grandmother's dustbowl diary about life on  the Nebraska plains during the 1930's and 40's.  Debi and her mother perform readings and music from Look Up at the Hawks, which have been featured on NPR's "All Things Considered" with Susan Stamberg and Noah Adams, on National Public Television, and on Radio Smithsonian.  Debi's lyrics have been published in two Random House books, Crème de la Femme and Life's a Stitch (Random House), benefiting the Susan G. Komen Breast Cancer Foundation, National Coalition Against Domestic Violence, andAmFAR.  She is currently working on another book with her mother based on letters between college friends dating back to 1947 entitled "A Bag of Bees... and other Tales of a Round Robin."     Debi Smith lives with her husband and son in Falls Church, VA, near Washington, D.C.
REVIEWS: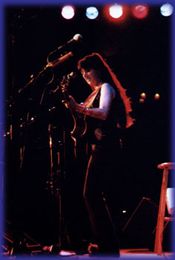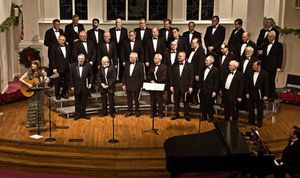 Debi performing at The Birchmere and with the National Men's Chorus of Washington
REVIEWS
FOR "IF I WERE AN ANGEL" CD
"Debi's wonderful new Christmas songs vividly capture the sacred essence as well as the festive spirit and touching, personal warmth of the holiday season.  Her refreshingly original music and lyrics, along with her beautiful vocal performances, make this abum a welcome addition to the traditional holiday llistening repertoire."
  --James Kessler, orchestral arranger, Kennedy Center Honors,  National, London and Chicago Symphonies, Boston Pops
FOR "HITS AND HOLIDAYS" CD
"On Debi Smith's latest album Hits & Holidays the vocalist with the three-octave range–– a member of the much loved U.S. folk group the Four Bitchin' Babes and The Smith Sisters––turns her gorgeous vocals to an array of songs celebrating everything from Christmas to Collector Car Appreciation Day (That's July 9th, by the way!) 
The delight is that the diverse collection works beautifully. Although Smith has a voice that challenges the mastery of household-name divas, she never allows her styling to get overly stuffy or maudlin. Instead, she balances sentimentality with just the right amount of wit to make most of the album a play-all-year spin.
Doc Watson, Mike Auldridge, Tom Paxton and Marcy Marxer are among the artists who make appearances on this recent release. But despite the A-list guests, Smith's vocals steal the show.
The classic 'O Holy Night,' 'Pie,' a cover of a Watson song, and 'Keep on the Sunny Side,' (upon which she duets with Watson) are among the stand-out tracks. Perhaps the most stunningly beautiful track, though, is 'Mother's Hands.' Smith, a parent herself, sings with the heartfelt wisdom of someone who has experienced the joys and sorrow of life and love. But, again, the songs on this album don't take listeners on a sentimental journey. For pure fun, take a listen to 'Chevy Impala,' which Smith wrote with her husband Michael Jaworek.
The bottom line: Whether it's a holiday or not, Smith's latest album is a hit."
- Nancy Dunham, Folking.com
"I'm on record as supporting unilateral drone strikes on performers who make holiday records. (Dylan's Christmas album, anyone?) I am, however, willing to give the stand-down order for Debi Smith's foray into seasonal merriment. First of all, she has a seriously great voice; it has depth, power, clarity, and chutzpah. No wonder she's both a beloved solo performer and a mainstay of Four Bitchin' Babes and The Smith Sisters. If you've any doubt about how good she really is, listen to her out-muscle a string orchestra on "O Holy Night." We're talking diva territory on that one. The other thing in her favor is that she has an expansive view of holidays—not just the mauling mall litany of Christmas irritants, but a calendar's worth of offerings. I did not know that January 23 was National Pie Day, but I'm feeling festive about that one, and I'm as giddy about Smith's cover of Doc Watson's "Pie" as I am of her duet with Watson on "Keep on the Sunny Side." They're calling that a New Year's song and that's good enough for me. Nor did I know that March 20 was National Proposal Day or that May 4 was Renewal Day, but I'm glad she collaborated with Tom Paxton on the tender "Marry Me Again." Canada Day coming up? Check out Smith's "Niagara Falls." Need a little something extra for Mother's Day? Smith's "Mother's Hands" is rightly a beloved standard. Want to go a little over the top? How about "Chevy Impala" for Collector Car Appreciation Day? Mark your calendars; it's coming up on July 9."
-Rob Weir, Off Center Views and The Valley Advocate
"A multi-instrumentalist with a three-octave vocal range, Debi Smith writes songs with the craftsmanship of an artisan and the insight of a poet" 
--All Music Guide  
 "Smith's talents are anything but limited... heavenly"  
--Billboard Magazine
"Smith is one of the most promising singer-songwriters on the contemporary American Music scene…" 
--Music Hound
"Well-crafted, finely honed and thoughful, blending strong visual imagery and intelligent sentiment to produce songs of uncommon sensitivity... stunning... moving... wowed the audience... nothing short of dazzling."  
--The Press, Ridgefield, CT 
"Her three octave range is amazing, her command of multiple instruments, and her range of song styles lend variety to her performance...  Debi has a personality that can make a room light up."
--Sing Out Magazine
"colorful...lovely...clever... not to be missed"  
--The Washington Post 
"Debi Smith's Red Bird Red is powerful… musically and lyrically sophisticated, and flawlessly performed by a cadre of Nashville pros. Smith's beautiful three-octave voice and penetrating songs, exploring life's bright joys and epiphanies, frustrating ambiguities, and deep losses, have a cathartic effect on the listener." 
--Dirty Linen Magazine
"Local Siren Debi Smith could sing just about any song and make your jaw drop. With her expressive and versatile voice and simple, honest songs, Debi Smith has gifts to spare."
--The Journal Newspapers
"For me, Debi Smith represents great songs sung with a God-given voice like few others. She is pure music."
--Tom Paxton
"Smith's latest CD is a pure piece of beauty.  Smith's sound borders between folk and country... Throughout, Smith's lilting, smooth and easy to listen to voice moves the listener right along." 
--Music Monthly
"Hers is a voice that seems to reach beyond what one imagines is possible, far beyond." 
 -- The Gazette, Kalamazoo MI
"Debi's originals soar with an ethereal grace and beauty."
-- The Times
"Debi's songs include"very funny songs, dead-on modern satires with real meat on them."
-- New England Folk Almanac
"As for Smith's genre of music…she is equally at home with country…pop…folk…jazz or Irish music.  She is a first-rate guitarist, accompanying a crystal-clear singing voice that has a range of at least three octaves.  And she is a master of the bodhran (Irish hand drum)." 
--Chapel Hill News
"When Smith displayed her humor, the audience roared with laughter. She then displayed her remarkable vocal range. Smith's song sung to the Irish drum was stunning."
--Grand Rapids Press
"Debi creates a mesmerizing vibe when accompanying herself on drum."
--Los Angeles View
"Debi Smith possesses a glorious voice and stellar songwriting gifts... There are few folk performers who are not only great writers and performers, but also born with the gift of a naturally beautiful singing voice."  
--Christine Lavin
"I am always so excited to see Debi. She graces the stage in every way."
--Dar Williams
"Over the years, Smith's lovely voice has matured along with her songwriting.  Her soprano has acquired a soulful edge and her ballads sound unmistakably heartfelt..impressive, both touching and eloquent."  
--The Washington Post
Michael Jaworek
703.217.3311